So the time has come… to announce the most stupendous prize of all for the Knavecon 13 Raffle.  Ladies, Gentlemen, Knaves… I give you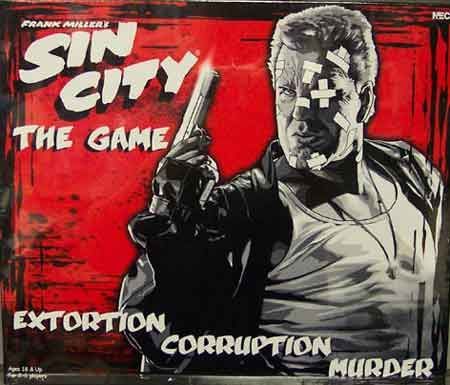 An extraordinary (as in not ordinary) game in perfect condition, unplayed, previously loved, a classic, a gamer's game.  Featuring high quality pewter pieces (warning high chance it contains lead)(maybe mercury), a board, cards and rules. What more could you ask for?  Not available to buy outside of the USA where laws are more lax.  This is the one the one the only Sin City.  Many have possessed by never owned this game.  Are you the king Arthur of gaming, are you knave enough to lift this and BE the game.  This is not a sucker's game, you're not a sucker are you? Of course not, but you'll be one if you don't get in now and buy raffle tickets to secure your gaming future.  Chances like this don't come more than twice a year.  don't miss out, get you tickets now and shoot for the stars, realise your goals, BE the owner of this game and revel in the gasps of other gamers (along with their morbid curios stares) this could be your future.  Think about that.
Huzzah!
Vic
Also THIS
Couple of quick notes
The Daimyo edition includes all the expansions, it does not include the rubber mat extra or metal coins extra.  At the time of posting this CMON in their wisdom have send me on everything bar the Daimyo box which is due to arrive to me and a stack of other late backers soon.  Should it not arrive for any reason in time for Knave it will be posted out or delivered to the winner by hand.
MORE TO FOLLOW
SO! how do I get tickets early and beat the rush on the day and benefit from the 2 for 1 offer before the Friday before the Knavecon?  Well because I like you so much I've made it simple just paypal my Swiss bank account at
victorgannon@yahoo.com
Prices are currently
2 x raffle tickets for €1
20 x raffle tickets for €8
40 x raffle tickets for €15
Should you feel inclined, feel free to pre-book your tickets for the event too.  Tickets will be available on the door on the day as usual.
Adults €18
Students and unwaged €10
Accompanied Children Free
Huzzah!
Vic